RMS Titanic and Ralph B. White
The Greater Clinton Township Historical Society will be hosting Lynn Anderson as she presents The RMS Titanic and Ralph B. White.
Ralph B. White, an adventurer and award winning cinematographer, co-directed the expedition which discovered the RMS Titanic in 1985. He was an award winning cinematographer with hundreds of films to his credit. Mr. White served as a cameraman for the National Geographic Society; his work was featured in the 1991 IMAX film, Titanica; and James Cameron's Academy Award winning feature, Titanic. His slides have not been presented publicly since his passing in 2008.
Lynn Anderson is a professional actress and well-known Titanic historian and lecturer. Lynn is also professional impersonator of Margaret "Molly" Brown of Titanic fame, performing for Titanic Artifact Exhibits and "Last Dinner on Titanic" interactive dinner theater events. Lynn will be presenting Mr. White's copyrighted Titanic images with the blessings of his family.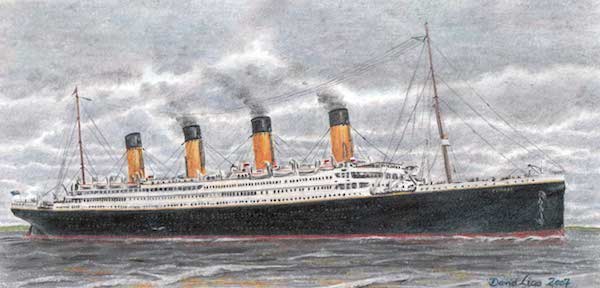 Date: Monday, May 9, 2016 Place: Clinton Macomb Public Library 40900 Romeo Plank Road Clinton Twp Mi 48038
Keep checking Facebook, the Historical Commission site (ctwphc.org) or the Historical Society web site for updates.
For further program information, please contact Jeri Hungerford at 586.286.9173.
All meetings begin at 7:00 pm

Clinton-Macomb Public Library (Main Branch)

Presentation is free; Refreshments will be served.

6:30 Refreshments
7:00 Presentation